L'Erabliere, Tosny. Holiday Rentals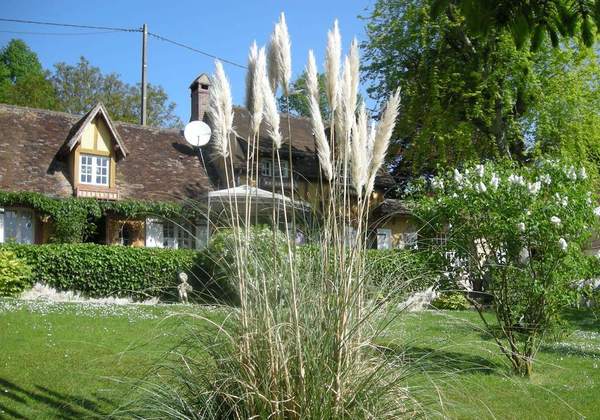 click for 19 extra photos
Contact Details:
Description:
Description for B&B:
Our two double rooms very comfortable with private bathroom and toilets have a view on the calm garden : "the Daffodils" and "the Hydrangeas". Each room is decorated in a theme color in harmony with the landscape of Erabliere and are furnished very cosy. Our diner in Table d'Hôtes, only on réservation, is prepared at home, with family receipes and with fresh products from the market of the day : we share this moment with very much pleasure with our guests...sometime Under the bower...The breakfast "campagnard" is traditional : fresh baguette,of the day a basket of home made jams, orange juice, cake of the dayor Ginger bread...
You can offer to yours friends "un bon cadeau" all included, we will take care of us....
free wifi in each room.
Reviews
Appréciations pour L'Erabliere, Tosny:
Ici tout est bon
Une véritable invitation dans l'univers de Catherine et Jean-Michel: charme,humaine accueil authentique.Tout est bon,petit dejeuner,le confort d'une maison charmante,les dicutions et les échanges... sans oublier une gentillesse joliment partagée.Mille merci.
Response from property:
Merci pour votre commentaire qui ressemble énormément au style des échanges que nous avons eus sur place : on a retenu votre invitation a venir vous voir, malheureusement cela nous est difficile avec nos périodes d'ouverture..; mais on sait que vous revenez de temps en temps dans notre région et on espère que nous serons a nouveau votre escale en Normandie.A bientôt, essayez de revenir avec les fleurs dans les jardins, il y a tellement à voir ! A bientôt. Catherine
Un tres bon séjour en amoureux
Maison très acceuillante où l'on trouve le calme. Une bonne pause détente
"La douce France"
Charming house with an atmosphere "la douce France"
Response from property:
merci pour votre avis que je découvre très tard. notre maison est a nouveau ouverte depuis le 11mai 2020, avec toutes les mesures sanitaires Covid. nous serions heureux de vous recevoir à nouveau. Notre diner est toujours "fait maison" et sur réservation. A bientôt , peut être....Prenez soin de vous. Catherine Guérin
une maison pleine de charme
nous avons été reçus par Catherine et Jean Michel comme si nous étions des amis de longue date. Excellente table d'hôtes et beaucoup de disponibilité et d'infos pour organiser nos visites touristiques nombreuses. adresse à recommander.
Response from property:
Merci pour votre commentaire concernant notre maison : nous avons été heureux de vous recevoir et nous espérons vous retrouver bientôt....en notant que nous avons mis en place, maintenant, notre croisière privée sur la Seine et que cette expérience est vraiment une autre manière de découvrir notre "petit coin" de Normandie.Catherine et Jean Michel
Write a review
Directions
Less than 100 kms from Paris via the A13 motorway, exit "The Andelys-Gaillon"
or the N15,
Cergy
Pontoise
by road N15, 40 kms from
Rouen
, 8 kms from Les
Andelys
, 18 kms from
Giverny
.
At 35 kms from
Rouen
by the A13 or the N13.
Less than 20 kms from
Giverny
home and gardens of Claude Monet and museum Impresssionnismes.
Map

Prices
Property type
Quantity

Prices in €

Daily Prices
Weekly Prices
min.
max.
min.
max.

extra bed

breakfast
B&B
(2 pers.)
2
105
110
15
oui
Services

Wi-Fi

Parking

Garden

Dinner