LES CAPITELLES, SAINT HILAIRE. Holiday Rentals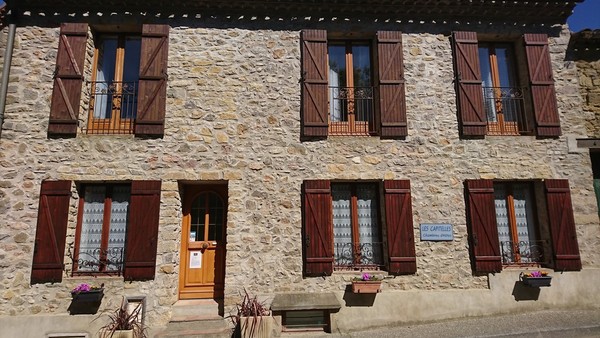 click for 9 extra photos
Contact Details:
Price per night:
price from €50
Description:
Description for B&B:
We welcome you in a beautiful house, old barn winegrower. Three guest rooms tastefully decorated combining antique furniture and modern comfort. The village of
Saint-Hilaire
is listed as a Site of the Cathar Country for its 13th century Benedictine Abbey. The City of
Carcassonne
and the Canal du Midi, a UNESCO World Heritage Site, are located 14 km away. Many Cathar castles are scattered throughout the region, and beautiful walks through the vineyards.
Description for Gite
At your disposal, three guest rooms located on the 1st floor of the house. Two bedrooms, La
Campagne
and Les Vignes, with 1 bed 140, bathroom and private bathrooms. A room, the Abbey, with 3 single beds (small bathroom and private bathroom on the ground floor). The Vines and the Abbey can be rented as a family room because they are communicating. The living room, dining room is on the ground floor of the house. The room is air conditioned. The breakfasts and the table d'hôtes are served in the large dining room.
Reviews
Appréciations pour LES CAPITELLES, SAINT HILAIRE:
Nuitées
Excellent accueil et petits déjeuners.
Parking très accessible.
Dommage que linstallation de la clim soit interdite par la mairie.
hospitalité
un grand merci à Joël pour son hospitalité, très bel endroit avec un très bon accueil chaleureux et souriant, avec surtout de la patience pour une famille de 4 à 5 personnes.
les chambres sont très confortables et surtout propres quand aux petits déjeuners....tout bonnement délicieux avec les confitures faites maison. Rien de tel pour bien débuter une journée avec les conseils avisés de notre hôte.
nous recommandons et vous disons à bientôt
famille webert
merci !
chouette accueil, cadre bien agréable et petit déjeuner ... hummmmm ! un faible pour la confiture de raisin, mais les autres sont très bonnes aussi ! et avec une jolie musique en fond ! ( le disque est commandé ! )
bref, un seul regret : une seule nuit passée ! mais on garde l'adresse !
SATISFACTIONS
Accueil chaleureux avec petit déjeuner copieux confiture excellente

endroit très calme chambre très propre. A Conseiller pour un séjour agréable.
à recommander
une superbe structure à recommander absoluement. Tout y est agréable et raffiné, l'accueil de notre hôte a été très chaleureux et souriant. les petits déjeuners sont copieux et que dire des confirures faites maison, sans oublier les verrines aux fruits, rien de tel pour bien démarrer la journée et visiter les sites recommander par joël.
nous sommes partis ravis de notre séjour et compter sur nous pour le faire savoir
Harmonie
Au centre du village, restauration réussie pour cette jolie maison de 120m² sur 2 niveaux, bois, poutres et pierre, meubles d'epoque (henry 2) tout est en harmonie avec la qualité de l'accueil. Le propriétaire est tout sourire à nous faire découvrir sa maison et le travail de restauration effectue par ses soins. Dans cette maison, beaucoup de souvenirs de voyage qui nous amènent à voyager avec le propriétaire. La qualité des petits déjeuners est aussi très agréable pour bien commencer la journée. Pourquoi ne pas la commencer par la visite de l'abbaye... Il n'y a que la rue à traverser. Nous partons conquis et avec l'intention de reconnander cette adresse. À bientôt de nous revoir. Jean heurts.
week end
cadre agréable, très coquet, confort excellent, salle de bain de caractère avec un acceuil chaleureu du propriétaire
week end agréable dans un cadre tranquil et apaisant
Write a review
Directions
GPS
Latitude: 43.092208542070324
Longitude: 2.308502197265625
From
Toulouse
exit west carcassonne then take direction and then limoux Saint Hilaire (D118 or D204).
The house is located at the top of the main road from St. Hilaire.
Coming from
Narbonne
exit carcassonne is take direction
Carcassonne
and
Limoux
(D204)
Map

Prices
Property type
Quantity

Prices in €

Daily Prices
Weekly Prices
min.
max.
min.
max.

extra bed

breakfast
B&B
(2 pers.)
3
50
59
340
371
20
OUI
Notes: Price for 1 person from 45 to 54 depending on the season
Services

Wi-Fi

Credit cards accepted