La Grange de Coatelan, Plougonven. Holiday Rentals & B&B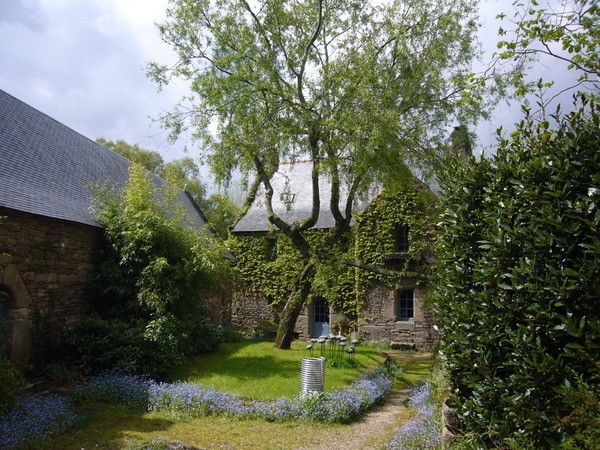 click for 13 extra photos
Contact Details:
Address:
Yolande De Ternay
Kersahet
Plougonven
29640
Price per night:
price from €60
Description:
Description for B&B:
ower bedroom when you leave the main building it is on your right at the end of the low stone building. This is our largest bedroom with two beds on the ground floor which can be put together, and two more beds upstairs. The bathroom is all in wood and looks out over the field - a real pastoral scene !We charge 70 € for 2 people, including breakfast
Blue bedroom
This is the little house as you go into the courtyard. It is so nice that you won't want to leave! and is perfect for a family.There are two divans on the mezzanine, which children love, and the
bathroom is light and comfortable. 70 € per night for 2 people, including breakfast
Top bedroom
You can go in either from indoors or outdoors - let's come in from outside. Up the little stone staircase and through the door. On the left is a lovely light and airy bathroom, the bedroorn is
on the right, and it has a large double bed.You can see the courtyard in the front if you look through the little window at the foot of the bed, and at the back there is a view over the countryside.
We charge 70 € for 2 people, including breakfast.
Pink bedroom
This room has a double bed and a divan by the fireplace, a small bathroom with bath, and a mezzanine which can sleep two.5 people can share this room.
60 Euros per night for 2 persons, including breakfast
Green bedroom
This is the smallest room but it still has a large double bed. The bathroom is well equipped and visitors think this room is like a cozy little nest.60 € per night for 2 including breakfast.



Description for Gite
Kerlucy
Detached house between the
Monts
d'Arrée and the beaches. A charming
house deep in the countryside renovated in a resolutely modern style
whilst retaining the original features. You will surely appreciate
the friendly and bright interior
Reviews
Appréciations pour La Grange de Coatelan, Plougonven:
Un vrai havre de paix
Le lieu est vraiement beau, la literie est excellente.
Les petits déjeuners complets.
Mais ce qui est le plus frappant, c'est l'accueil et la générosité des hôtes.
Nous nous sommes sentis comme en famille !
Une adresse sans concession que nous gardons bien précieusement !
Gros changements !
Très grosse déception !!!
Il y a environ 5/6 ans, nous sommes allés dans cette chambre d'hôtes, et nous avions adorés.
C'est pour cela que l'année dernière, nous avons offert une nuit, petit déjeuner compris, comme cadeau de Noël à nos parents.
Ils y sont allés ce mois ci (nov./15) et là qu'elle déception. L'auberge n'existe plus. On peut comprendre vu la conjoncture ! mais la table d'hôtes, très cher pour ce qu'on leur a proposé. De plus ma fille de 5 ans a payé le même prix que les adultes!
Que dire du petit déjeuner. Nous en avions fait que des éloges à nos parents lors de notre séjour. Et là, NEANT total !!!!
Aucune viennoiserie, pain congelé, far breton congelé ...
Comme quoi, en quelques années il y a eu de gros changements mais pas dans le bon sens.
Nous ne recommandons plus cet établissement !
Dommage
Response from property:
Effectivement les choses changent,avant les gens disaient ce qu'ils pensaient en vous regardant dans les yeux maintenant ils se lâchent sur internet . Le repas d'hôtes cher,vous pouvez me rappeler ce qu'ils ont eu et à quel prix ? Quant au petit-déjeuner ,depuis 26 ans que nous avons les chambres d'hôtes ,jamais nous avons servi la moindre miette de viennoiserie. Nous continuons à servir du far ,des crêpes,des yaourts de la confiture 100% fait maison ,même recettes depuis 26 ans , et les pains,3 sortes, il sont passés au four pour qu'il soit chauds et croustillants. Ok,on n'est pas obligé d'apprécier !
Write a review
Map

Services

Parking

Garden

Dinner