La Nichée, Rochefort-Montagne. Holiday Rentals
click for 13 extra photos
Contact Details:
Price per night:
price from €70
Telephone:
0473658853
Mobile:
0624230243
Description:
Description for B&B:
At the heart of the Massif du Sancy and the Regional Park of Auvergne Volcanoes, three bedrooms, a whole family in a nice house outside the village bread oven in the room host. Terrace, landscaped, fenced, private parking. Kit babies. Superb view over the Chaîne des Puys (Puy de Dome,...). Vulcania 24 km, 19 km from La Bourboule. To find nearby: Vulcania, Lemptegy Volcano, Rocks Tuilière and Sanadoire, the Roche branlante, Orcival Basilica, the Banne d'Ordanche, Lake of Guery and Nordic ski area. Languages spoken: French, English and Spanish. Pets accepted under certain conditions.
Reviews
Appréciations pour La Nichée, Rochefort-Montagne:
exceptionnel
Tout est exceptionnel: l'emplacement, les prestations, l'accueil, la gentillesse et les connaissances du propriétaire, ses conseils...nous y serions bien restés....!
très agréable séjour
nous avons passé un ixième séjour à la Nichée, cette fois-ci sous la neige. c'est tout aussi beau mais très différent de l'été. nos hôtes nous ont reçu avec toujours autant de gentillesse et d'attention. on aime décidément beaucoup.
à bientôt, c'est certain!
Marlène
Response from property:
sincères remerciements. et donc, au plaisir de vous retrouver! a très bientôt. F.MONTEL
Write a review
Map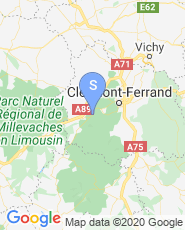 Prices
Property type
Quantity

Prices in €

Daily Prices
Weekly Prices
min.
max.
min.
max.

extra bed

breakfast
B&B
(2 pers.)
2
70
85
455
455
oui
B&B
(3 pers.)
1
105
130
735
735
25/30/40
oui
Services

Wi-Fi

Parking

Garden

Disabled Access

Animals Allowed