Le Clos Sajot, Saint Côme du Mont Holiday Rentals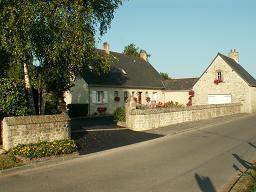 click for 6 extra photos
Contact Details
Address:
Martine Leonard
1 Route de Houesville
Saint Côme du Mont
50500
Website
Price per night:
price from €50
Reviews
Appréciations pour Le Clos Sajot, Saint Côme du Mont:
Great Base for Seeing the Beaches
I stayed here in May 2018 (and apologize to Martine and Michel for not posting sooner). The breakfast spread was amazing, and they even made French toast for me (wish I could upload the picture). Hosts were wonderful and helped me get some flowers for Memorial Day at the military cemetery. Rooms excellent. Quiet location. If you're there to see the invasion sights, this is a good location close to Utah, and the airborne dropped in the town (a memorial to Ltc Wolverton is just across the street). Michel has interesting info and family stories regarding D-Day and knows a lot of the local history re the 506th.
Le Clos Sajot
Belle et confortable surprise à proximité des côtes du Cotentin. Petit déjeuner gourmand et convivialité dans un environnement nature.
Cazare la "Le Clos Sajot"
Daca doriti sa vizitati aceasta regiune va recomand aceasta adresa unde am petrecut un sejur excelent.Gazde primitoare si de un rafinament rar intalnit.Conditii de cazare si igiena ireprosabile,as putea spune ca este o atmosfera conviviala,deschisa tuturor discutiilor.Ne-am simtit extraordinar.Pacat ca distanta este atit de mare si nu putem reveni in fiecare an.Recomand tuturor dar mai ales iubitorilor si pasionatilor de istorie.Multumesc gazdelor.Merci Monsieur et Madame Leonard
Write a review
Directions
Map

Prices
Property type
Quantity

Prices in €

Daily Prices
Weekly Prices
min.
max.
min.
max.

extra bed

breakfast
B&B
(2 pers.)
2
50
20
oui
Services

Parking

Garden

Dinner
The nearest listings: