Suivez Le Lapin Blanc, Saint Valery Sur Somme. Holiday Rentals
click for 20 extra photos
Contact Details:
Price per night:
price from €99
Telephone:
Mobile:
0612630820
Description:
Description for B&B:
What would you most want for your stay at Suivezlelapinblanc?
The Mary Poppins room and its atmosphere Supercalifragilisticexpialidocious? Being at the heart of the spatiotemporal discrepancy with Marty Mc Fly ?, make you seduced by the invitation to travel Thomas Edward Lawrence? Or else discover the refinement of Sayuri, Queen of the Geisha?
All these universes are united in an old manor house which once belonged to the Apothecary. Perfect place to stage all our ideas with the objective of making "A place with no other like" or conviviality and escape are in the honor!
Located in St Valery /
Somme
itself, without using your car, you will be in the heart of the Baie de
Somme
and its many possibilities of activities: The old town with its unique panorama on the bay, nature walks, seals discovery Canoeing, biking, steam train and its beautiful 1900s atmosphere, quiet boat trips or more zodiac sports to approach the seals, a bucolic walk to the Herbarium at the foot of the ramparts, not to mention its varied restaurants Ranging from gastronomy to traditional cuisine.
You will also have to think of the unmissable places close to St Valery, namely: The ornithological Park of Marquenterre, the House of the Bay of
Somme
, the Abbey of Valloires and its gardens, the unique wood of Cise, the path of the sea, The beaches of Fort Mahon, the cliffs of
Ault
, the beautiful villas of
Mers-les-bains
, ... You choose now !! But if need be there!
Directions
We are located at 49 rue de la Ferte, main street of Saint Valery /
Somme
between the port and the great place of Pilots.
Map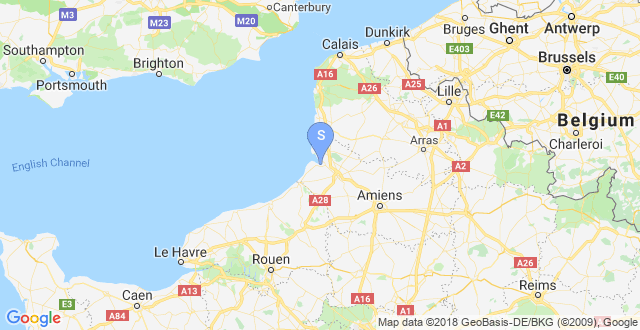 Prices
Property type
Quantity

Prices in €

Daily Prices
Weekly Prices
min.
max.
min.
max.

extra bed

breakfast
B&B
(2 pers.)
4
99
115
40
Services

Wi-Fi

Credit cards accepted